How we work
Briefing & brainstorm
Tell us all about your story and let us know what your goals and expectations are. Our designers will guide you through a creative thinking exercise in which we come up with a concept that matches your brand and is certain to leave an impact.
To the next step
From concept to design
Through mood boards, sketches and 3D simulations, Creaplan shows you what to expect from your future exhibition stand. We come up with a plan that combines the concept and your branding into a functional design that works for you.
To the next step
Planning and follow-up
Exhibition opening day is D-day. The grand opening of a new office has to run smoothly. That's why we plan and schedule accordingly and take care of all preparations so you don't have to worry about anything.
To the next step
Hands-on in our atelier
The experienced team in our atelier takes care of everything, whether you prefer a traditional booth or a modular solution. Our in-house production translates into flexibility when last-minute changes are needed.
To the next step
Perfect delivery
Creaplan aims to be your trusted partner throughout the whole process. We are at your service from beginning to end and guide you wherever necessary. Even after delivery, we'll gladly evaluate everything to get even better results next time.
From A to Z
The core
Concept & design
In-house construction
Storage & reuse
Own transport
Assembly and disassembly
Experience and impact
Content creation
Audiovisual applications
Interactive applications
Lead generation
Stand analytics
The extra mile
Hospitality
Catering
Gadgets
Booth Events
Photo & video
International expertise in stand building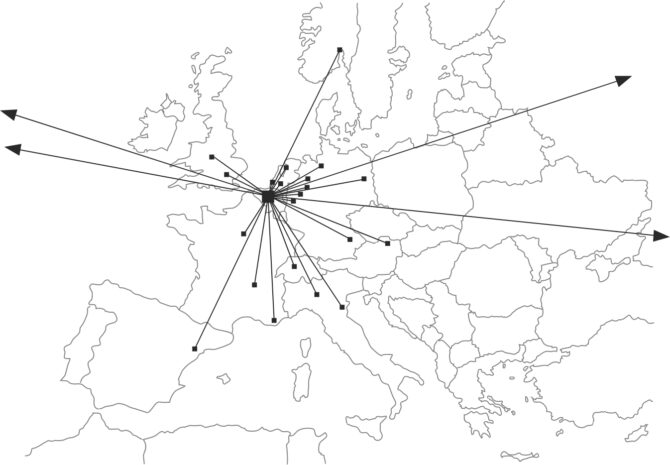 Anywhere in the world, we use our years of experience to guide you through your next project. In the world of trade fairs, having a solid network and strong relationships with trade fair venues and organisations is a great advantage. One that we gladly share with our customers. That way you can focus on your trade fair participation – we'll take care of the rest. Inside and outside of Europe.
Amsterdam
Barcelona
Basel
Berlin
Brussels
Chicago
Cologne
Dubai
Düsseldorf
Frankfurt
Ghent
Hannover
Kortrijk
Las Vegas
London
Lyon
Madrid
Milan
Moscow
München
Nürnberg
Oslo
Paris
Vienna
Every great design begins with an even better story
25 years of expertise.
Contact us