Thermo King
Thermo King produces transport refrigeration systems for trucks, delivery vans and more. Creaplan built their stand at industrial transport trade fair Solutrans.
| | |
| --- | --- |
| Fair name | Solutrans |
| Client | Thermo King |
| Location | Lyon |
| Number of m² | 247 m² |
The challenge of this 250 m² stand was to highlight the values of Thermo King: a heart for the environment on the one hand and an innovative and high-tech approach on the other. To do so, Thermo King and communications agency Owesome came up with a dual design that plays with the contrast between outside and inside, light and dark, ecology and technology, open space and tunnel.
Solutrans was our first ever co-operation with Creaplan. This project was creatively and technically complex, and quite the challenge. But Creaplan met our high expectations on every level. We had many partners, clients and even competitors commending us for the stand concept. This would not have been possible without the Creaplan team.

Erika Smets, Marketing Communication Leader Thermo King Europe
Natural look-and-feel
The company's ecological vision is given a place in the open area of the stand. We covered the walls with visuals of a forest in combination with a wood-look finish for a natural look-and-feel. The custom-made bar was constructed from low-maintenance laminate, and for the floor we opted for high-quality melamine, which radiates a feeling of warmth.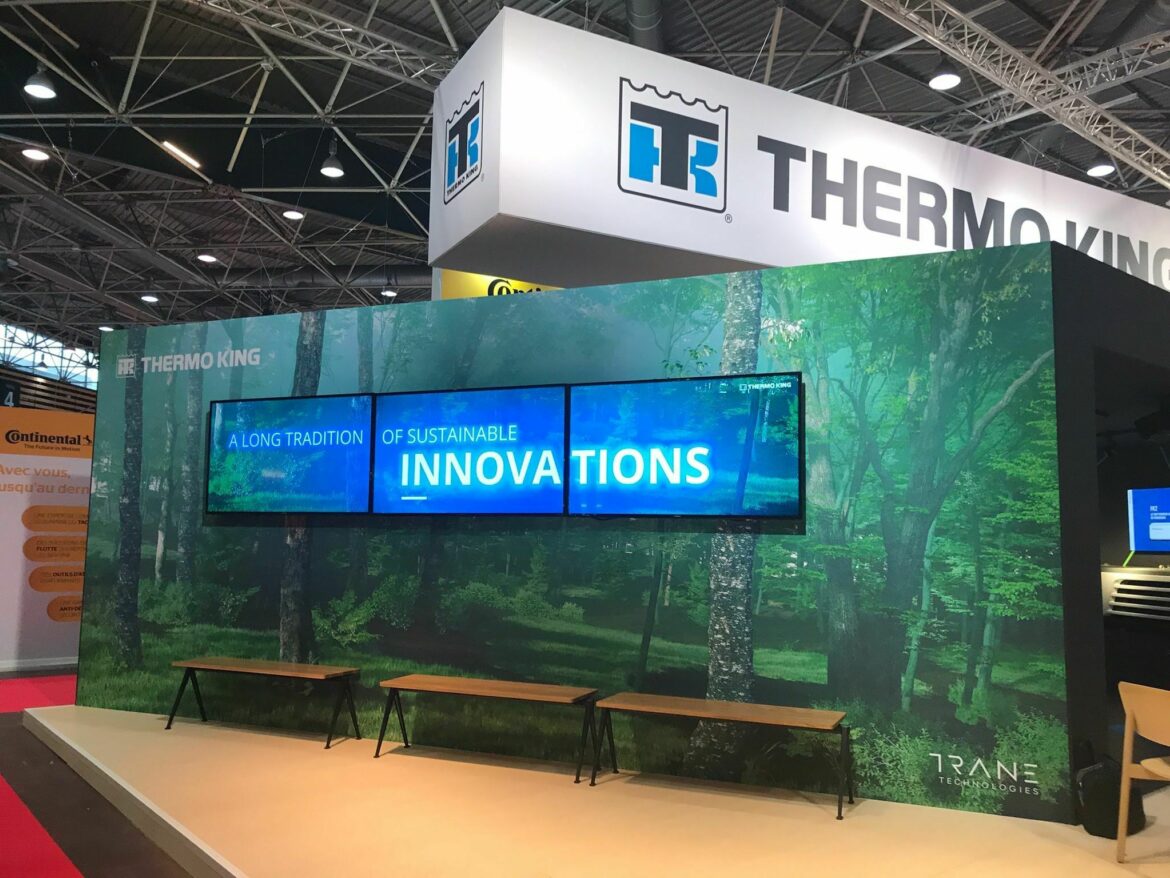 High-tech tunnel
The big eye catcher of the stand, offering a platform for the innovative approach within Thermo King, is the Tech Gallery: a tunnel construction in which their innovative products are presented, including a projection installation. An animation is projected on the latest Thermo King refrigerator which brings the product to life and informs the stand visitors. The walls of the tunnel are decorated with fluorescent strips in blue and green, underlining the high-tech and sustainable character of Thermo King. The tunnel is also in the shape of the letter A, referring to the new Advancer 500 Whisper Pro cooling machine that was premiered at Solutrans.
The visuals of trees on the walls continue on the screens in the tunnel and form a common thread in the stand design.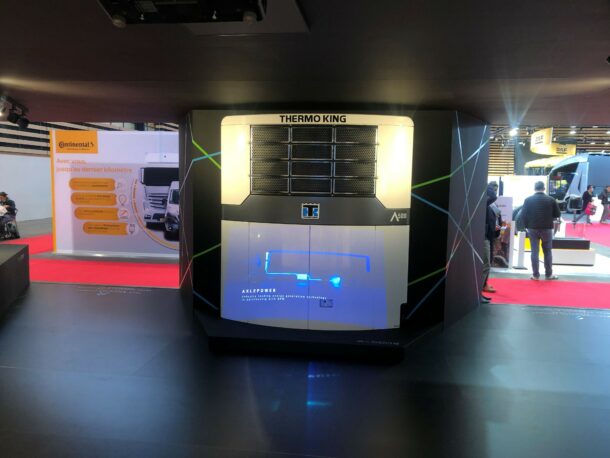 Practical layout for employees and visitors
Not only the concept, but also the practical layout received the necessary attention. Thermo King asked for a well-equipped and practical kitchen so that their caterer could work efficiently. In addition to the staff rooms, we provided a meeting room with a half-open ceiling with wooden slats for good ventilation and a pleasant temperature during the fair. Our architects finished off the design with hanging plants and cosy light bulbs for a green and atmospheric end result.