Watt Factory
Creaplan upgraded the interior of Watt Factory, a vivid co-working space in Ghent. We redesigned it in a light industrial style and optimised the layout to create more space.
| | |
| --- | --- |
| Client | Watt Factory |
| Location | Gent |
Creaplan provided a lunch and work area with plenty of seating, a new kitchen that doubles as a bar and a relaxation area on an existing mezzanine.
Focus on daylight, cosiness and an open feeling
Our designers started from the existing structure: we wanted to keep the industrial look-and-feel, but at the same time wanted to let in enough natural light to create a sense of openness. We combined this style with the character of the coworking: youthful, casual and modern. Cosiness is key.

Former atelier redesigned as work and dining space
For the former atelier area, we wanted to create a space that invites to have lunch together, have a drink or a meeting in a relaxed atmosphere. We placed warm wooden tables and chairs as well as a comfortable seating box.
The counter of the kitchen in the back of the space is finished with tiles in a terracotta shade, making it the eye-catcher of the room. The counter not only serves as a kitchen, but also as a buffet table and bar for a cosy after-work drink and the many networking events that take place.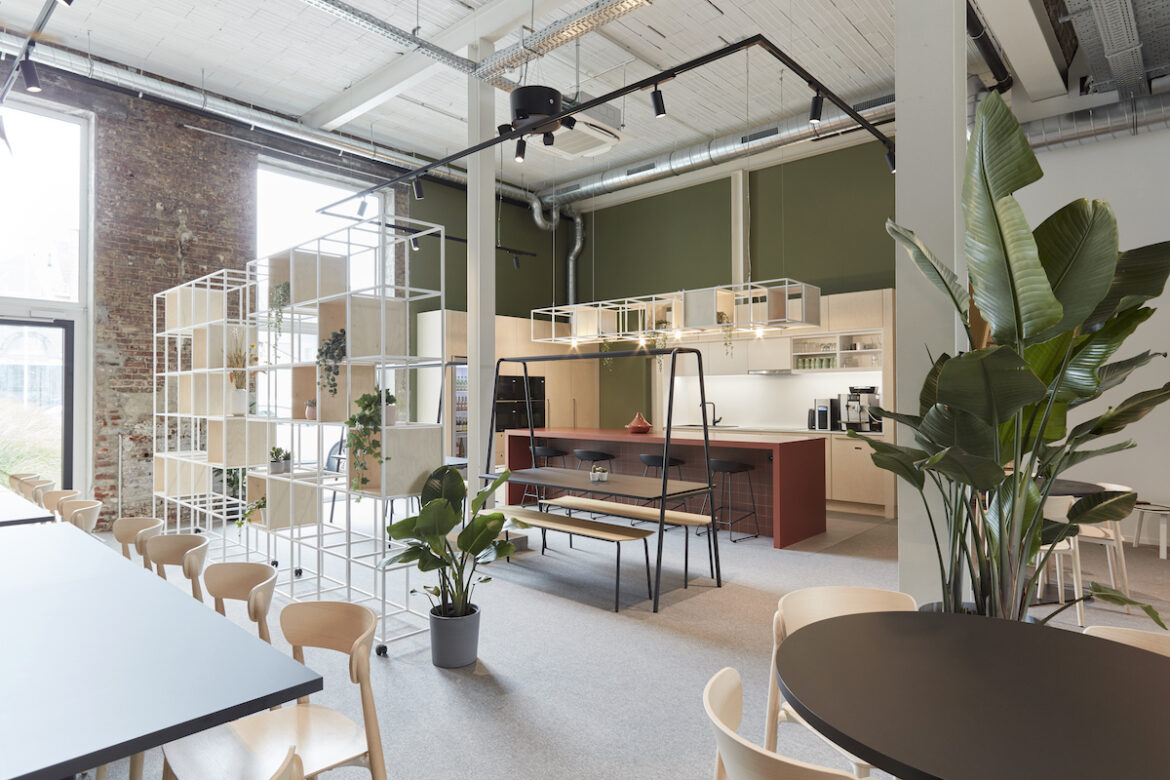 Flexibility is important for Watt Factory. That's why we arranged this central space in a modular way, withsteel racks on wheels that double as partition walls or can be pushed aside when needed.
Well-considered materials
The entrance hall is decorated with a luminous 3D letter logo and a bench, which is optically continued through the glass partition wall for a spacious effect. The original brick wall was fixed and cleaned for an authentic vibe. The window openings in the brick wall are filled with black smoked glass, for an added roomy feel and an interesting contrast with the wall.
We chose warm birch wood for most of the furniture, the kitchen and the trim, resulting in a sense of uniformity throughout the space. With cosy seating and cushions in leather and velour, among others, we add softness, texture and character.
A staircase leads to the mezzanine with lounge area, which we provided with the same relaxed atmosphere and refined finish, but with slightly different colour accents.

The building itself contains a lot of glass and a high ceiling, so we worked with carpet in several places to preserve the acoustics. Lastly, we used sun protection glass on the south faced front of the building, guaranteeing a pleasant temperature in the offices.
Let's talk!
Looking for a creative redesign of your existing space, or rather interested in a completely new office or work space? Get in touch or call us on +32 9 381 80 30.