The 3 Cs of good office design: focus on function
In 2020, our way of working was turned upside down like never before. Since then, we've been rethinking the concept of the office, from work regime to furnishing. So what better time to take a fresh look at your office interior?
The prime office trend for the coming years: activity-based workspaces, designed with a strong focus on function. In this article, we tell you about these functions – the 3 Cs of office design – and how best to design your office according to this principle.
Collaboration: working together, in meeting and brainstorming rooms
Now that many employees have experienced the benefits of teleworking, a large proportion of them will want to continue doing so on a part-time basis. Not only to save commuting time, but also because many experience that working from home is more productive. Still, physical collaboration has its advantages, which even the best organised Zoom meeting cannot match. This is why we're seeing an evolution in which the office is becoming the place where people consciously come together. To meet, to brainstorm or to start a new project together. This makes comfortable meeting rooms and well-equipped brainstorming rooms absolute must-haves.

The meeting room of the future is not dull and formal, but well equipped with atmospheric lighting, natural daylight, furnished with matching furniture and accessories and upholstered with acoustic materials. Audio-visual applications, such as a built-in screen with camera, microphone and speakers, are perfect for remote meetings with colleagues working from home or customers on a different location.
Another great addition to your office? Creative brainstorming rooms where employees can work together in a loose atmosphere. Comfortable seating such as armchairs and pouffes combined with projection screens and/or pinboards are the ideal setting to let ideas run free, away from a classic office environment.
If you plan to receive clients in your meeting rooms on a regular basis, it's best to make sure that your branding and company values are clearly present. Quality furniture, wall-sized visuals and illuminated 3D logos tell your company story in the background.
If you want to be sure that your furnishings will still be useful in a few years' time, it's a good idea to make your meeting rooms and brainstorming rooms modular. You can transform your meeting room into an after-work lounge by moving any folding tables aside, or divide a large meeting room in two by means of movable walls or an acoustic curtain. The possibilities are endless.
Concentration: focused working, in quiet rooms
We've known for some time now that classic landscape offices are not ideal for concentrated work, but because they offer many other advantages in terms of light, ventilation and budgetary reasons, it's logical that many companies still utilize them. And that's not necessarily a problem, as long as you provide enough spaces for focus work.
For example, you can provide a few quiet rooms where employees can retreat for an undisturbed focus hour, a (remote) meeting or a telephone call. You can build in separate quiet rooms, but you can also work with mobile meeting boxes or telephone booths. They are compact and do not require any major construction work.
A focus room can be set up like a meeting room, although extra attention to acoustics (no disturbing noise) and a low-stimulus design (as few distractions as possible) is ideal here. Glass walls create an open feeling, whether or not finished with a frosted effect for some added privacy.
Creaplan also offers outdoor meeting boxes, so you can be closer to nature or simply transform superfluous space in your parking lot into extra work space.
Community: not working for a while, in relaxation areas
Well-being at work is played out even more in office design, with relaxation and the social aspect at the heart of it. It's important to provide enough space where employees can relax together and recharge their social batteries, aside from their desks.
If you have plenty of room, you can provide a dedicated relaxation area where colleagues can talk, play, have a drink together or eat something in a relaxed atmosphere. From extensive sports and gaming infrastructure to fitness equipment or daybeds to rest, there are plenty of options to get creative with. These areas are often slightly different in style from the rest of the office, for a clear distinction between work space and relaxation area.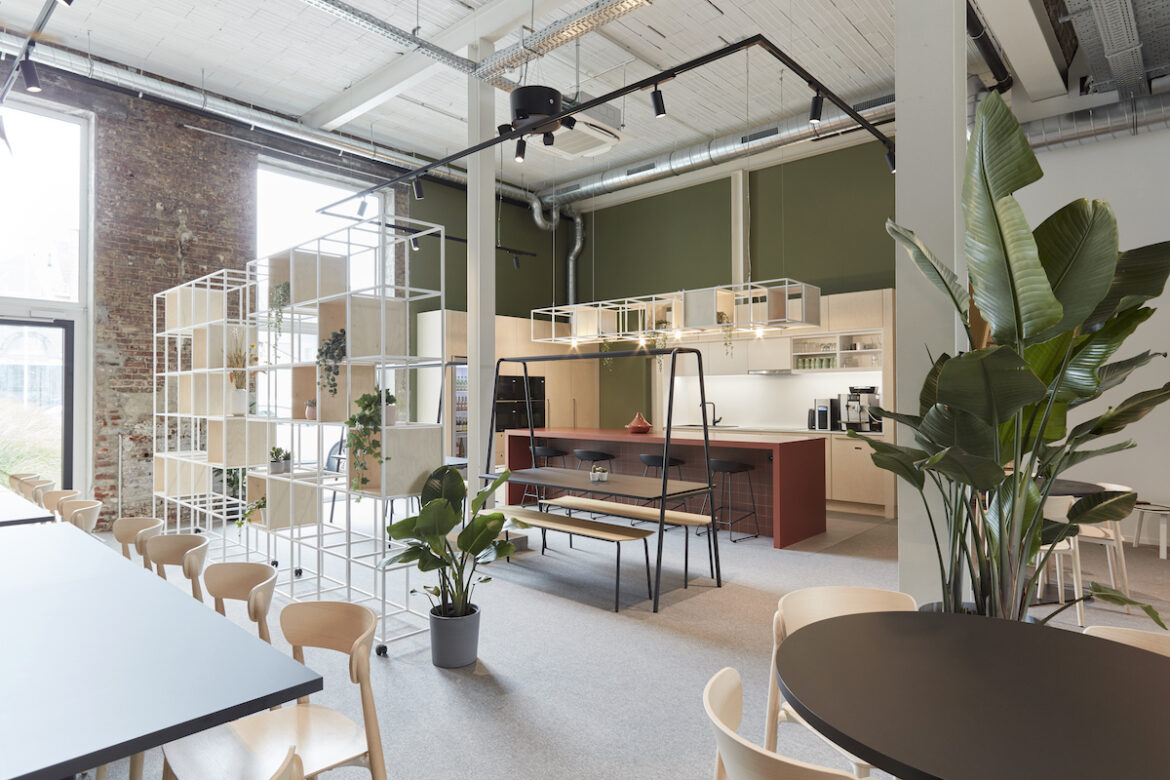 In addition, the cafeteria and dining areas increasingly function as the heart of the office. They can also be arranged in modular fashion so that they are suitable for events, team buildings and presentations. In terms of style, we see that these social areas are decorated in an extra cosy way, with a look and materials that often remind of a hotel lobby or a cosy restaurant.
If you have little space available, you can work with built-in coffee corners or compact kitchens.
Want to exchange ideas about your office layout?
As an expert in professional interiors, Creaplan is happy to think along with you about your next office update. With a few smart interventions, we can give your workspaces a new look, or we can completely overhaul the layout for a brand new end result. Get in touch for more information.